Understanding Independent Senior Living and How to Choose the Right Community
When a senior reaches the golden years of their life, there's a good chance that they want to preserve as much of their independence as possible. Independent living allows seniors to do exactly that, while providing them the safeguard of a community that is looking out for their best interests. This is a popular solution for families of seniors who don't want to see their loved one harmed while living on their own or living in a nursing home.
When you or a loved one is approaching these years of life, there are a lot of options available to you – including nursing home care, as mentioned above. It is best that you receive a wealth of knowledge about all viable options. In this guide we will closely examine senior independent communities. If the senior in your life is capable of doing many things on their own, this is a solution that you should be quite informed of.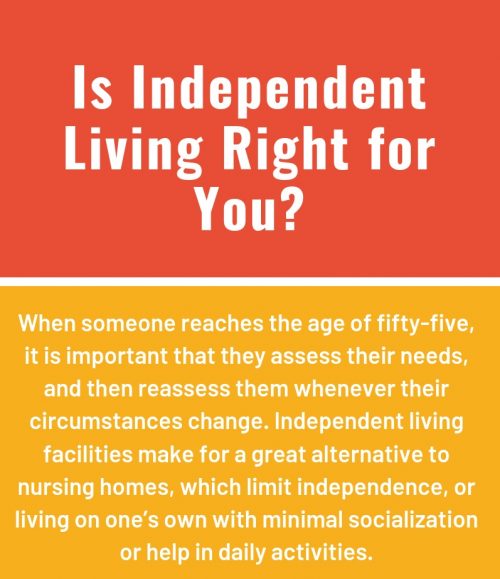 What Is Independent Living?
Independent living facilities allow seniors to be in charge of their own faculties while providing a number of services and amenities to help them live their highest quality of life. Also known as senior independent communities and senior retirement communities, independent living facilities allow seniors 55 years of age and older to live in a house or apartment of their own. They get to do this while enjoying a wide array of services including transportation, dining and social engagement programs.
Senior independent living is a great way to help a senior citizen retain their dignity and independence without putting themselves in harm's way by living truly alone.
Are There Different Types of Independent Living Situations?
Seniors and their families can select from a wide assortment of housing options including apartments, townhouses, mobile homes and condos. Independent living communities also vary in their offerings and services, so it's important to critically assess the amenities and opportunities available when choosing a senior independent living facility.
In this section we will discuss the primary types of independent living offered to seniors.
Senior Apartments
This type of situation is the most common independent living situation utilized by seniors age 55 or older. Most senior apartment complexes are privately owned and operated, so they are not required to accept younger tenants. A public senior living apartment complex could be compelled to rent out spaces to people who aren't seniors.
Seniors get their own apartments, which facilitates privacy and independence. They get these apartments with a few added benefits, including transportation and meal services.
Age-Restricted Communities
In an age-restricted community, seniors may buy or rent homes while sharing certain amenities with other seniors. Clubhouses are a common feature of these communities, which afford seniors many socialization opportunities as well as scheduled activities and dining.
Continuing Care Retirement Communities
Though a senior may be healthy and capable of being mostly independent right now, that is something that can change as they get older. Continuing care retirement communities enable independent living, as well as assisted living when the senior decides that they need some additional care. This gives the senior the distinct benefit of aging in one place. They don't have to relocate when their particular needs or circumstances change.
Caregivers are on-site to help aging seniors with various aspects of their daily lives, while still providing a sense of independence.
Senior Co-Housing
When a group of seniors decide to work together to manage private properties and address matters as a community, this is referred to as co-housing. This is the latest innovation in independent senior living, as co-housing offers the opportunity to "age in place" while remaining surrounded by a thriving and caring community. Oftentimes, there is a shared property that is used for communal events, housing visitors and meal times.
Seniors living in this type of arrangement will typically share expenses, like groceries and energy bills, to provide a less expensive option on a per-person basis while ensuring that everyone has everything they need.
What Services Do Seniors Get When Living Independent?
The services offered by senior independent living facilities vary wildly from place to place. Essentially, it depends on what you feel comfortable paying for. Some exclusive senior living communities may offer more lavish services and amenities, like golf courses and maid services. Regardless of the cost of living in the community, a senior can reasonably expect to have transportation, meal services and social calendars afforded to them.
Other services that may be included in a senior's independent living stay include, but are in no way limited to:
Landscaping care
Caregivers to help seniors with more difficult tasks
Laundry amenities
Restaurants
Recreational activity amenities, like bocce ball courts or a gym
Because each facility has its own amenities and services, you should carefully research what is available in your area when choosing such a facility or community. We cannot tell you with 100% certainty what is offered by senior independent living facilities in your area.
When Should You or Your Loved One Enter into Independent Living?
An independent living program for seniors is a great option when the senior still possesses most of their ability to live and function on their own without a great amount of outside care. It is unfortunately common for seniors to feel dissatisfied in nursing homes and assisted living centers when they could reasonably be living on their own, within a community.
Isolation is a subject that should come up when discussing the care that aging seniors need. Socialization is just as important as any other aspect of senior care, but far too often overlooked until the senior expresses sentiments of loneliness or even depression. It's not uncommon for even the most independent of seniors to feel closed off from the world when they live in a traditional community. Independent living facilities grant seniors the ability to feel independent while having their peers nearby.
If you or your aging loved one is in need of a senior-centered community, independent living could be the best choice. Fostering independence while providing care and socialization opportunities is what these facilities are all about.
How Does One Choose the Right Independent Living Community?
Selecting the right independent living facility requires an exhaustive amount of research into the available options in your area. You need to find the facility that best meets the needs of the senior in question. To do this, it's best to visit your options and inquire with staff as to what is included in the senior's stay. Here's a list of questions that you should ask when interviewing with a facility:
Is the facility pet-friendly?
Does the facility only permit the acceptance of senior citizens?
Is continuing care available at this facility?
What meal services are provided? Is the kitchen equipped to deal with any relevant dietary restrictions?
What does the typical daily schedule look like?
Does the facility offer any recreational activities that meet the senior's interests?
Which services and amenities are covered by the charge to stay at this independent living facility?
What security and emergency measures has the facility put in place?
There are no bad questions when trying to find the right independent living center for yourself or your loved one. Anything that comes to mind as important should be asked long before you ever commit!
What Does it Cost to Live Independent?
Just like with residing anywhere else, the cost of living in a center for independent living depends on the cost of renting or owning a property in the area. It also depends on how "exclusive" the facility is and what they have on offer. For a senior apartment, residents can expect to pay anywhere between $1,000 and $4,000 monthly for their occupancy. Continuing senior care can cost quite a bit more, as caregiving expenses are added to the monthly cost of the senior's living unit.
Co-housing can be a substantially cheaper option, as many seniors are pooling resources to give each other and themselves an independent but communal-based lifestyle.
In most circumstances, living in an independent living facility comes at roughly the same cost as living on one's own outside of these communities. If you prefer the comforts and amenities of a more exclusive facility, however, you can expect to spend up to thousands more each month.
FAQ About Independent Living
Who is a good candidate for independent living?
Seniors (age 55+) who do not need constant care by a caregiver make for ideal candidates for an independent living center. Independent living is the best option for seniors who require minimal help in their day-to-day lives and want the comfort of companionship with other senior citizens.
Do seniors have to leave their belongings when moving into independent living facilities?
Absolutely not! Residents are encouraged to bring their furnishings, décor and other belongings. The point of independent living facilities is to make the place feel as much like home as possible.
Are pets allowed at senior independent living centers?
Typically, independent living centers will accommodate cats with great ease. Many also allow for small dogs. You may even be able to find a facility that will let you bring your large dog with you! The staff at these centers understand how important it is to keep your beloved, furry companions close by and will do their best to accommodate this important bond in your life.
Can a senior bring their own car, even if the facility offers transportation services?
If the senior is able to legally drive, they can certainly bring their car along to the facility! Even when they do choose to bring their own vehicle, seniors can still make use of the transportation service offered.
Are meals provided by all independent living centers?
In an independent living center, seniors only have to cook if they really want to! The types of meal services available range from modest to downright lavish, depending on the location and how much you're willing to spend. Some facilities even have dining establishments, restaurants designed to cater to the dietary needs of residents.
Are caregiver services offered in independent living facilities?
Yes. Caregivers are typically on-hand to help seniors with the areas that they struggle in, such as driving or paying their bills. Medication management is another service that is typically available. Continuing care independent living facilities will have a more extensive offering of medical care services due to the changing needs of the aging residents.
What is security like in an independent living facility?
All independent living facilities offer 24/7 security. This may include guards, cameras and other methods of protecting the residents and their belongings.
Do seniors have to live on a very rigid schedule?
Seniors living in one of these communities are free to do as they like, just as they would if they were living elsewhere. Schedules are made available to residing seniors, but these are not a requirement to go by. These schedules typically depict events and recreational activities being held within the community. Nobody is obligated to participate in whatever is on the schedule.
How can I go about paying for residency in a senior independent living facility?
Most individuals and families pay for residency at these facilities using personal funds. Retirement funds, HELOCs and other types of loans are commonly utilized to get a senior into one of these communities. Low-income seniors who qualify for Section 8 housing benefits may be granted a voucher to help them bridge the gap between the cost of the facility and what they can afford out of their own pockets.
Is Independent Living Right for You?
When someone reaches the age of fifty-five, it is important that they assess their needs, and then reassess them whenever their circumstances change. Independent living facilities make for a great alternative to nursing homes, which limit independence, or living on one's own with minimal socialization or help in daily activities.
If you or a loved one is of senior age and craves the connections found within a communal setting, independent living could be exactly what they need.